I BUILT THIS! Video Contest
The I BUILT THIS! Video Contest is BACK in 2020!
The sixth annual I BUILT THIS! video contest, presented by NCCER and Build Your Future, is returning this October!
Designed to promote the value of craft skills and construction as an industry of choice, the contest encourages secondary and postsecondary students and trainees to showcase their building projects. 
For the first time, the I BUILT THIS! Contest has a special theme for 2020:
"Construction is Everywhere!"
This year has brought some unique circumstances into the lives of students, trainees and instructors. But while education and training may look and feel different, the building skills remain critical to our future.  
Contest Entries due by November 1, 2020.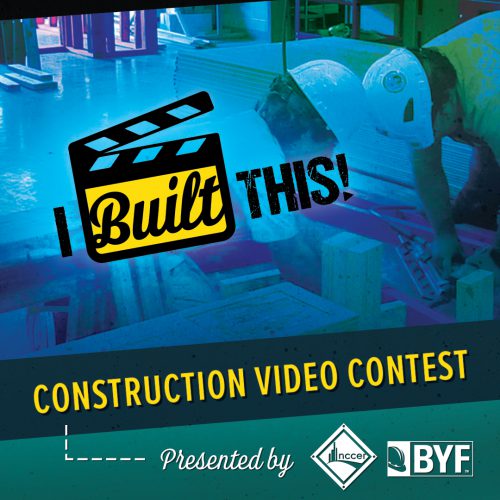 Contest Categories
Secondary
Postsecondary
Popular Vote
More than $20,000 in total prize value! Winning entrants and their programs can win tools, swag, gift cards and more!
Thank you to our 2020 I BUILT THIS! Prize Sponsors:
Individual Secondary
Joey Arrington, Carroll County Career and Technology Center
Group Secondary
Jordan Stambaugh & Gavin Rouse, Carroll County Career and Technology Center
Individual Postsecondary
Russ Jackson, Southern Air Apprenticeship Program: Wheels of Learning
Group Postsecondary
Moshe Udy & Curtis Choi, ABC Southern California
People's Choice
Jose Torres, Virgilio Morales, Eddie Torres, Jose Gomez & Tony Rodriguez, Milby High School
Individual Secondary
Michael Fulton
Carroll County Career and Technology Center
Group Secondary
Joseph Petrowicz, Dai Wei Chen, Sara Warthen
Carroll County Career and Technology Center
Individual Postsecondary
Tyrique Johnson
ABC of Metro Washington, NCCER HVAC Apprenticeship Program
Group Postsecondary
Russ Jackson, James Kelso, Mike Mann,
Nathan McMurray, Jared Lowell, Southern Air Apprenticeship Program
People's Choice
Rossy Ballesteros, Columbus Career & College Academy
1st Place Secondary
Dalton Yingling, Carroll County Career and Technology Center, Welding Technology
2nd Place Secondary
Andrea Nguyen, Jerry Rodriguez, Grant Huber & Carlos Zambrano, Dr. Kirk Lewis Career & Technical High School
1st Place Postsecondary
Russ Jackson,
Southern Air Apprenticeship Program
2nd Place Postsecondary
Alexander Lopez, ABC of Metro Washington, NCCER Pipefitter Apprenticeship Program
1st Place Secondary
Max Roeder,
Springdale District Television
2nd Place Secondary
Simon Anderson, Mahomet-Seymour High School
1st Place Postsecondary
Sebastian Diffey, North Arkansas College
Honorable Mention
Hunter Alums, Uncommon Construction
1st Place Secondary
Earl Warren, High School NISD
2nd Place Secondary
Mahomet-Seymour High School
1st Place Postsecondary
Drumright Central Technical College
2nd Place Postsecondary
Monongalia Technical Education Center