Two Ways Tech Is Revolutionizing the Industry
Author: Kelsey Zibell, NCCER Guest Contributor
The construction industry has always been a large proponent of pen and paper.
From architects drafting concepts for new builds to site managers and craftsmen planning blue prints. Traditionally, it has all been done with pen and paper.
However, as the world goes more digital, this isn't the most effective way to create, manage and execute a construction project.
With a skilled labor gap and workforce shortages, the industry is already facing challenges. To minimize the effects of the shortage and to allow the industry to continue to grow, we have to advance technologically. And no – I'm not suggesting we replace workers with robots.
Though the industry has tended to hang on to its pen and paper, it has started to embrace technology and invest in its integration into construction. In fact, funding for U.S.-based construction technology increased by 324% in 2018. As the younger, tech-savvy generations join the industry, they are pushing the importance of technology and showing how it can help the industry.
As technology evolves and becomes more accessible for widespread use, the industry is beginning to adapt and use tech to its advantage. By integrating it into everyday use, the industry will be able to increase productivity and improve for the better – namely through helping collaboration and efficiency.
Increased Collaboration
Every construction project has a million moving parts. From conception to the finished product, so many people, teams and companies have worked toward completing the build. Being able to work together with open and clear communication is critical.
By using technology such as apps or software to facilitate instant communication, a project can have full documentation and a constant flow of information allowing everyone on the project to stay fully informed, from investors to back office personnel, managers or craftsman. Using technology to store information gets rid of chasing details down and unintentionally keeping people out of the loop.
With this technology, information can be logged at any time from anywhere, saving time and improving the efficiency of data entry and documentation during a project.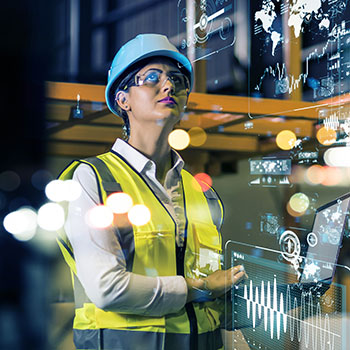 This is extremely helpful when Building Information Modeling (BIM) is used in the planning stages. BIM is technology that allows architects, engineers and construction professionals to plan designs on a single platform. Instead of architects drawing concepts and then giving them to craftsmen to figure out how to make the vision a reality, craftsmen and architects can work together during the planning phase. This way, the architect doesn't plan anything that cannot be properly executed, saving time and money in the planning phase as issues with redesigning are avoided.
When using this technology in the planning phase, any changes made to the plans are instantly visible for everyone to see. This reduces time spent making changes to plans and communicating the changes to team members. BIM can also simulate blueprints and drawings to help everyone visualize what it is going to look like. BIM is getting more popular within the industry as 88% of construction stakeholders believe that BIM can enable better design insight during planning.
Efficiency
Using technology to track the productivity of workers and the use of materials and space allows construction sites to become as efficient and streamlined as possible. With a skills gap, remaining efficient and productive allows jobsites to minimize the impact of workforce shortages.
Improving productivity in the industry saves money as it eliminates extraneous time, resources and labor. In fact, streamlining the delivery of projects could save the industry $400 billion every year.
Tracking efficiency can be done in two ways: through wearable devices and through tech like drones and robots. Both methods evaluate jobsites and workers with Artificial Intelligence (AI) to analyze how the placement of tools, where workers walk, how workers interact and where materials are placed affect the efficiency and productivity of the site as a whole.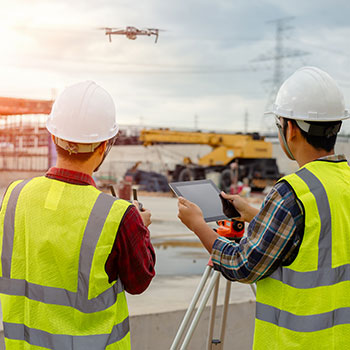 As AI continues to evaluate jobsites and efficiency, it will be able to look at the data that is stored over time and find discrepancies in productivity to predict trends and problems with jobsites. This information can be used to find problems before they arise and save the time and resources that would have been allocated to that issue.
In an industry where 95% of data is thrown away, saving and storing this data will help in the long run as tech can help find trends and problems with productivity over time. As this technology grows in use, there will be enough data to tell companies how to make an efficient use of labor, resources and time. This can improve safety, workforce management and efficiency while keeping projects below budget and ahead of schedule.
Additionally, stored data will allow companies to make more accurate budgets and timelines. With data that reflects shortcomings and resource and labor use, managers can more accurately predict what a project will encounter during the construction phase.
At the end of the day, the industry needs to invest and commit to technological advancement. As Gen X, Millennials and Gen Z begin to join the industry, they are bringing their understanding of technology and its benefits. This addition to construction has pushed for an increase in the investment and use of technology nationally, benefiting the industry and the workforce as a whole. By bringing construction into the digital age, we are allowing it to grow while meeting the demand it's creating.