Why Sports Fans Can Cheer for a Construction Career
Author: Jonathan Arnholz, NCCER Social Media Specialist
Whether you're getting ready to watch the first pitch or the opening kickoff, there's nothing quite like the buzz you get as you walk through the turnstiles of the stadium of your favorite team.
From historic venues like Wrigley Field in Chicago to the modern marvels like Mercedes-Benz Stadium in Atlanta, the stadiums and arenas that host the games are as much a part of the sports experience as the action on the field, court or ice.
But how did these magnificent coliseums for athletic feats and passionate fandom come to be?
It's through the skilled work of craft professionals – carpenters, welders, ironworkers, electricians, plumbers – that sports stadiums get built.
While sports construction workers may not have their likeness plastered on posters and billboards like the star players and coaches, they are equally worthy of cheers and accolades. Without them, there are no concourses or bleachers. There are no locker rooms or jumbotrons or flood lights.
The next time you go to a game, take a moment to appreciate the craftsmanship and skill that went into creating such a meaningful structure. But you don't have to stop there – you, too, can have a hand in building these cathedrals of the sports we love.
Here's why fans might enjoy a career in sports construction.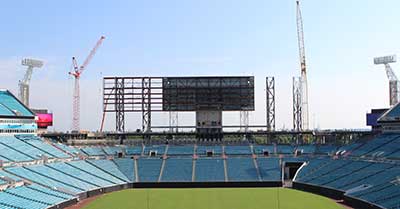 Be Involved in Your Favorite Sports
Sports are among the most popular activities in the world. Millions of people play sports, while even more enjoy watching as a spectator. All told, around 60% of Americans would describe themselves as sports fans.
Because sports are so popular, having a job in the world of athletics is an aspiration for many kids growing up.
This dream often starts with wanting to become a professional athlete. However, the chances of this happening are unfortunately slim. Only one out of every 4,233 high school football players end up making it to the pros, while there's only a 1/11,771 chance of that happening in men's basketball.
When being an athlete doesn't work out, many try to find other ways to still be around the game in their careers. Sometimes this turns into coaching, while other times it might mean athletic training, sports journalism, or working for a team's marketing or ticket sales departments. However, since everyone loves sports, competition for these jobs is also intense. Add in long hours and low wages for entry-level positions, and even a fun job can seem like a disappointing career path.
Maybe working directly in sports isn't for you, but you can still have a hand in it. As a craft professional, you might have a chance to work on the next billion-dollar stadium or jaw-dropping practice facility. You might also find yourself working on the upkeep and maintenance of current stadiums or restoration of historic venues.
Build a Lifestyle for You and your Family
Along with having a chance to work on cool projects, a career in the crafts gives you the opportunity to build a great lifestyle for you and your family.
Skilled craft professions offer good salaries as well as plenty of chances to earn more through overtime and travel pay. For example, welders earn a base salary of more than $71,000 per year, while electricians make more than $67,000. That's good money to start with, and with other incentives you could end up making six figures annually.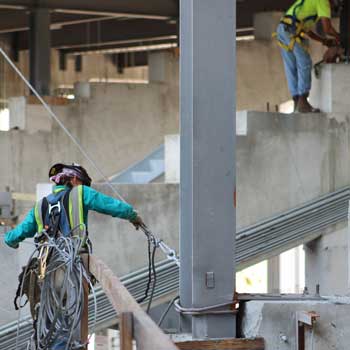 The wages are good when you become a full-time professional, but the career preparation also has a number of financial advantages. Most crafts don't require a four-year degree, and so accruing tens of thousands of dollars in student debt is not a worry. Associate's degrees and other training methods are cheaper, shorter in duration and often paid for by companies looking for skilled workers. Some learning models, like industry apprenticeships, split a student's education between classroom time and paid on-site work, allowing them to earn as they learn.
A career in construction pays you well without putting you in a financial hole. That means more money to splurge of fun things like season tickets to your favorite team!
Leave a Legacy
Sports legends are often immortalized in a Hall of Fame. While that probably won't happen to most construction professionals, you can leave a legacy in other ways.
For example, craft professionals are working to bring the NFL to Las Vegas for the very first time. Construction is ongoing for the brand-new Allegiant Stadium, the future home of the Raiders football team.
Check out this video of Raiders head coach Jon Gruden touring the work site and meeting with some of the crew members:
"This is jaw-dropping… This place is off the hook," says Gruden. "And it's a credit to [Raiders owner] Mark Davis and all these thousands of workers and the time they put in."
Everything you build in your career in construction serves as a living monument to your work. Whether it's a hospital, a school or a stadium, your legacy is left in every bolt you tighten or pipe you connect.
Every time you drive by the completed stadium, every time you attend a game there or watch one on TV, you can take pride knowing that you helped make it all possible.
Are you interested in exploring a career where you can work on cool projects like sports stadium and arenas? Check out our construction craft trading cards to learn more about the different types of skills and specializations you can learn.